The Everyday




Architecture Summer School


Copenhagen

Paraply is a summer school hosted by the student union at the Royal Danish Academy of Architecture in Copenhagen.

Prominent architects, artists and designers are invited to guide a group of architects in education and training through hands-on 1:1 spatial interventions, using only waste material from a building in transition or demise.
The first edition was held on 11-18 August 2023. See the archive below. Information about the second edition of Paraply School (2024) coming soon.
Allan Wexler, MacIver-Ek Chevroulet and PARABASE were invited to lead architecture workshop groups at the Royal Danish Academy in Copenhagen about 100 years of the everyday.
Context

100 years ago, in 1923, Le Corbusier published a groundbreaking collection of essays titled Vers une architecture, advocating for (and defining) a new modern architecture for the industrial age. Its principles influenced the built environment of the everyday for better, and for worse. Today, we live with the benefits and consequences of the systems derived from its manifesto.

As the climate crisis looms over our time, we are facing a new age in which radical change is not only desired, but necessary. In today's urgent turning point, we reflect on the lessons from the last 100 years, and look ahead toward the everyday of the next 100 years. What new architecture are we advocating for (and defining) for a regenerative age?

Goal

The workshop exists to integrate climate consciousness with practical adaptivity and design alchemy. Participants arrive with no prior knowledge about the materials they will have access to, or what the outcome of their projects will be. The intention is to encourage doing as a way of thinking by sketching in space at full scale –feeling the weight of timber, the stacking of bricks, and the hanging nature of fabrics, as methods for exploration. Mistakes and failures are essential design tools, considered as initial iterations and useful information.

The workshop begins with an opening exhibition, displaying the "waste" material that has been accumulated in anticipation of the workshop. Opening talks introduce the core themes and topics, before the participants are divided into groups, where they jump into analog creative exercises and become familiar with each other. There is a day for observing "The Everyday" in Copenhagen, and a day for reading and media assigned by each workshop leader, before starting the core workshop days. The group structure is inclusive and non-hierarchical, with the workshop leaders working closely with participants, shoulder to shoulder.

Allan Wexler
︎︎︎
MacIver-Ek Chevroulet
︎︎︎
PARABASE
︎︎︎
Participation

Artist and architect Allan Wexler, architects MacIver-Ek Chevroulet (Anna MacIver-Ek and Axel Chevroulet) and architecture studio PARABASE (Pablo Garrido and Carla Ferrando) led the first edition of Paraply, bringing together their collective experience in architecture, design, teaching and reuse.

A lecture series was curated to introduce a range of perspectives on "The Everyday" with talks by Anne Romme, associate professor and the head of program of FINDER STED at the Royal Danish Academy of Architecture, Anton Ryslinge CEO and Christoffer Breitenbauch Chairperson from Arkitekten Uden Grænser (Architects Without Borders – Denmark), architect Søren Pihlmann and Nicolay Boyadjiev, director of Practice Lab art Re:arc Institute.

The project was founded by Emil Hvelplund and Valentin Abend, who studied together at the Accademia di architettura di Mendrisio, worked for Herzog & de Meuron in Basel and SO – IL in New York, and currently teach at Parsons School of Design and the Royal Danish Academy of Architecture, together with Tobias Rasmussen, Jakob Ravn Abildgaard and Rebecca Stenz, who have been studying at the Royal Danish Academy of Architecture and are members of the student association.

Location


The workshop took place in an old seaplane hangar, which was refurbished by Danish architect Dorte Mandrup in 2001. For over a decade, the Seaplane Hangar H53 has been home to the Royal Danish Academy's architecture department. Pending reuse, since the architecture department is moving out this year, the immediate context of the workshop echoes its theme of regeneration: A moment of renewal at the end of the building's current life.

The large interior and open floors allow participants to spread out their ideas into direct spatial experiments.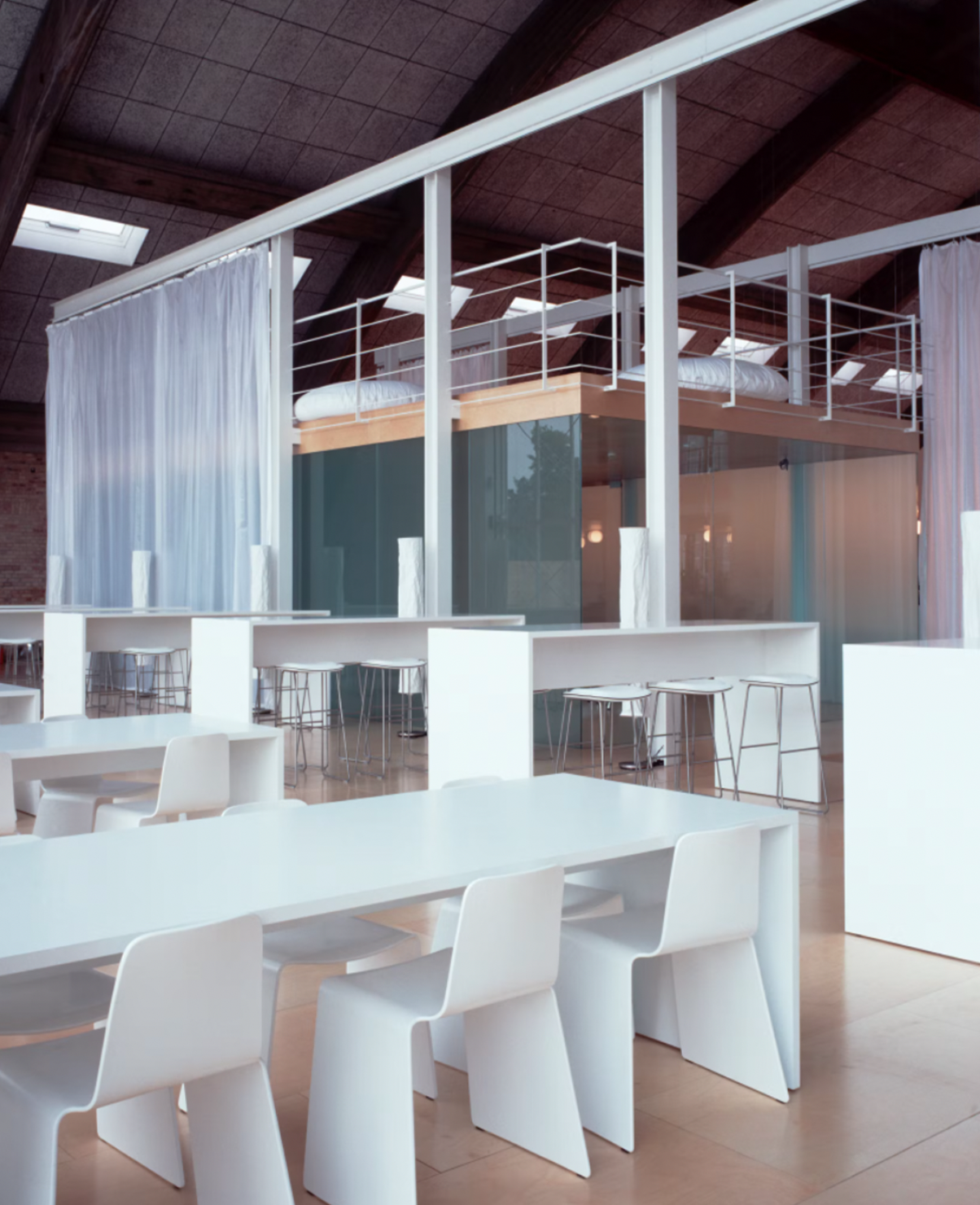 Workshop Space
Seaplane Hangar H53
Supported by
How we spend our days is, of course, how we spend our lives.


Annie Dillard





Any discipline which denies the everyday will be denied everyday.


Sarah Wigglesworth





In everyday banality, the action image and even movement image tend to disappear in favour of pure optical situations.


Giles Deleuze